Travel Info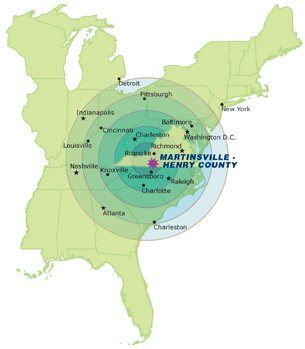 Centrally located on the East Coast Martinsville-Henry County is positioned on the southern border of Virginia, and covers 385 square miles. This thriving community is conveniently positioned within a day's drive to 60% of the U.S. population, and is strategically located within 50 miles of the major metropolitan areas of Roanoke,Virginia and Greensboro, North Carolina.
Four-lane U.S. highways 220 and 58 intersect in Martinsville. U.S. 220 connects the Roanoke Valley and the Piedmont Triad. Highway 58 runs from the Atlantic Ocean at Virginia Beach to Tennessee, along Virginia's Southside.
The Piedmont Triad International Airport (GSO), located 45 minutes to the south in Greensboro, NC has over 100 daily departures, including service from USAir, United, Delta, Continental and American Airlines.
Roanoke Regional Airport (ROA), 50 minutes to the north, has approximately 50 daily departures, including jet service from USAir and United Express and regional service from Delta, American and Northwest Airlines. UPS operates a regional hub adjacent to the airport.
Blue Ridge Regional Airport in Henry County is a 24-hour-a-day fixed base operation with a 5,000-foot lighted runway.
Transportation Options:
Apex Transportation - (276) 632-6118
Charis Transportation - (276) 638-0499
PART Bus - 800-964-5707, arrives at the MHC Visitor Center twice every hour, beginning at 7:49 a.m. and ending at 4:49 p.m., Mon-Fri. Fare is $0.50 per trip, children under 6 FREE. Stops include: Virginia Museum of Natural History, Village of Martinsville Outdoor Mall, Quality-Dutch Inn, Knights Inn, Wal-Mart, Food Lion/Dick & Willie Passage Rail Trail and SOVAH - Martinsville Hospital.
Lodging Options: